Cichlids Australia
Formally the ACE Forum front portal. Australia's oldest cichlid forum, online since February 1998. You can access the forums via the link in the side bar

This website has a national, rather than state specific focus and we welcome all Australian and international cichlid hobbyists to contribute articles. We are unaffiliated with any state cichlid groups, however, we recommend also joining up with your local cichlid club in NSW [1] [2], Victoria [1] [2], QLD [1] [2], ACT, SA or WA.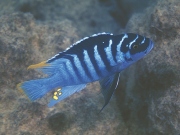 We cater to all kinds of cichlid enthusiasts, whether your starting out into the world of cichlids - or have a dedicated fishroom with 20 aquaria.
This web site is not for profit run by Cichlids_au.. The content of the articles are solely the responsibility of the person posting.

Photo: Maylandia zebra 'Chilumba' male, © 2004 Ad Konings. Displayed @ Cichlids Australia with permission, courtesy Ad Konings & CichlidPress